Regular price
$0.00 USD
Sale price
$9.99 USD
Unit price
per
Sale
Sold out
📕 🎄 Last Christmas order dates: Australia Nov 20, USA & Canada Nov 28, Ireland Dec 3. These are recommended dates only and not a guarantee. We will continue to ship books up to Dec 22. Please note all orders are printed on demand by my fulfilment company, so they will take 3 working days to be dispatched. Please allow shipping times of Ireland 7-14 days, USA & Canada 12-18 days, Australia up to 28 days. Shipping may take longer now due to Christmas. If you need your book in a hurry, please choose a priority shipping method. Orders cannot be updated and addresses cannot be changed AFTER an order is made, as our team have already started work on your order. Thanks for your understanding and patience. 📕🎁🎄
Discover the exciting world of fun, facts and pony quizzes with the official Saddlestone Quiz Book! This book is beautifully written for young equestrians aged 7 to 10 years, and is packed full of practical riding and stable management tips. The Saddlestone Quiz book will keep young riders entertained for hours, with topics including:
Knowing your pony
Pony health
Fields and stables
Grooming and bonding
Pony tack
Equipment
Horse safety
Riding your pony
Buying a pony
Horsemanship
This pony quiz book is perfect for young riders going to pony camp and studying for pony exams. It is also guaranteed to keep kids entertained on long car journeys. Plus is the perfect gift for birthdays and Christmas. Instructors, have got a quiz night coming up for your riding students and need some inspiration? Well, look no further than this pony quiz book!
The Saddlestone Quiz Book for Kids is written by the #1 best-selling Irish author Elaine Heney, who is also the author of the Listenology Guide, Dressage for Beginners, the Forgotten Horse and Horse Care for Kids. As seen at the RDS Dublin Horse Show, the Irish Pony Club Festival,  the Irish Pony Club Minimus, the Irish Riding Club Festival, Clonmel Show, Tullow Show & Iverk Show. Elaine's pony books are much loved around the world. 
Elaine Heney is the #1 best-selling author, award-winning film-maker, director of Grey Pony Films, and creator of the 'Listening to the Horse™' documentary. She has helped over 120,000+ horse owners in 113 countries to create awesome relationships with their horses. Elaine lives in Ireland with her horses Ozzie & Matilda.
Book formats

All our horse and pony books are paperback books, which will be shipped to you in the post. 

Our notebooks are available in either spiral and hardcover editions.
Shipping

Please note all orders are printed on demand by my fulfilment company, so they will take 3 working days to be dispatched.

Please allow shipping times of Ireland 7-14 days, USA & Canada 12-18 days, Australia up to 28 days. Shipping may take longer now due to Christmas delays. 

If you need your book in a hurry, please choose a priority shipping method. Thanks for your understanding and patience.
Are your kids books suitable for children?

Yes, all our children's books are clean & wholesome. They do not contain any adult content and are suitable for children.
Can I change my order AFTER I've ordered it?

Unfortunately orders cannot be updated or changed, and addresses cannot be changed AFTER an order is made. This is because the ordering system we use is automatic and we cannot update existing orders. 

Please be sure you enter in the correct address and the exact books you want when you order. Thanks for your understanding to help your order go smoothly :)
Share
View full details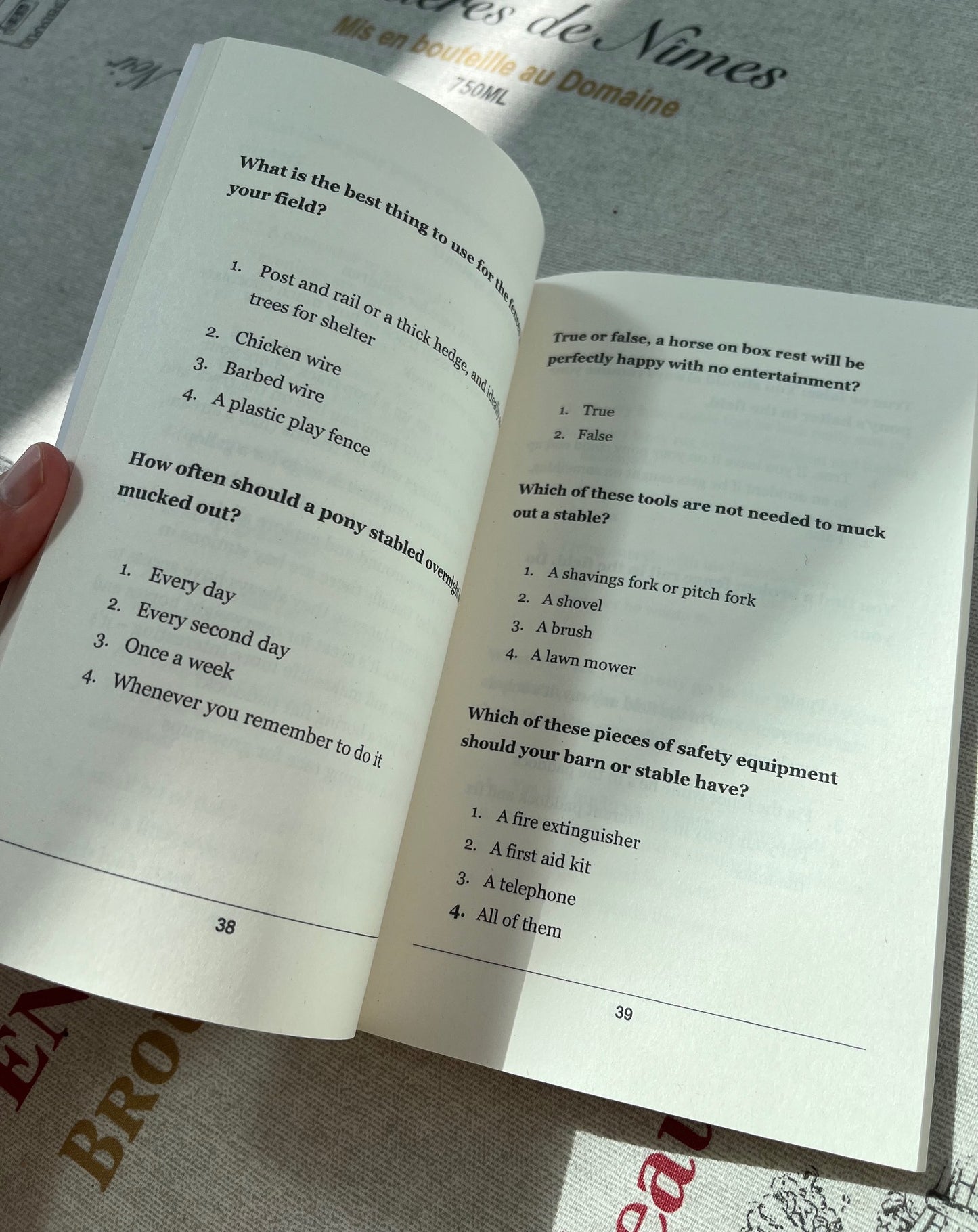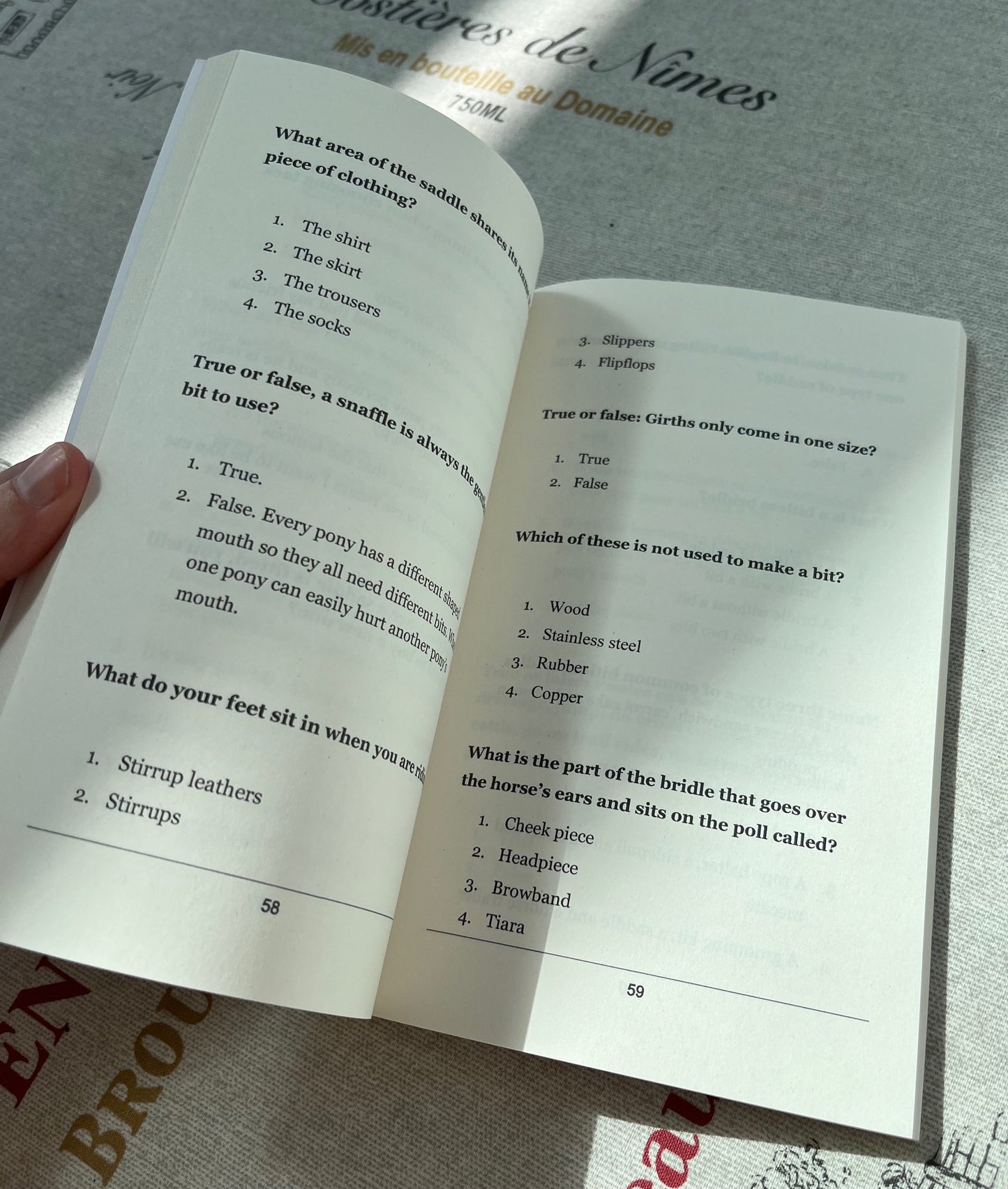 Wonderful for anyone!
I recently started riding and volunteering at a rescue, pursing my childhood dream of being around horses at the age of 35, so naturally I've been looking for a ways to expand my knowledge outside of the barn. Even though I'm an adult and this is designed for children, I found it engaging and incredibly helpful in helping me identify where the gaps in my knowledge are so I know what areas I need to focus on learning next. Thank you so much for creating this! And have now become a huge fan of your work!